Welcome to Painted Hills Custom Leather!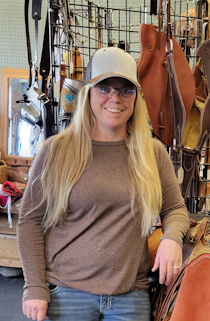 Painted Hills Custom Leather is located in Prineville, Oregon. Please welcome the new owner of Painted Hills Custom Leather, Cianeane Mann. For the past 10 years Cianeane has been doing custom leather works having schooled under Don Carter of Dixon Saddlery. The name of the leather shop has remained the same but the location has changed to 5403 N E Wainwright Road in Prineville.

Painted Hills Custom offers Boot and Shoe Repair, Saddlery Repair, Horse Tack, Knife Sheaths, Belts, Holsters, Chaps and Handbags. Custom leather items of cowhide, buffalo, and a number of exotics like ostrich. One can choose colors, fringing, fasteners, inlays, tooling and more. All items are custom made to the buyers specifications using only top leather.

The Galleries show leather made items. Each item being custom designed creating someone's vision. Cianeane can readily create your vision!